Invitation to Celebrate Heritage Week 2018 with Wicklow Uplands Council
Commencing today, Heritage Week 2018 will see over 2,000 events ranging from talks, tours, demonstrations, exhibitions and activities taking place nationwide.
This year's event acknowledges the European Year of Cultural Heritage, which encourages us to 'Share a Story – Make a Connection'.
In celebration of Heritage Week 2018, Wicklow Uplands Council would like to invite you to two special events organised to share and experience some of county Wicklow's rich and diverse heritage.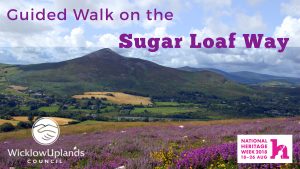 Monday, 20th of August at 7pm
To celebrate the start of Heritage Week 2018, why not join us for a guided walk on the recently opened Sugar Loaf Way trail with renowned walking guide Dairine Nuttall.
Meeting at the Red Lane Car Park (also known as the Sugar Loaf Car Park) at 7pm on the 20th, the group will travel downhill on a section of the Sugar Loaf Way at a relaxing pace.
The event is free, open to all to attend and promises to be a fun and enjoyable experience with plenty of stories and anecdotes shared along the route.
Due to a bus being organised to transport participants back to the car park following the walk, we request that you confirm your attendance in advance by email:bdunne@wicklowuplands.ie or phone: 01- 2818406
Please note walking shoes or runners must be worn for this event.
We also suggest that you bring water and dress weather appropriately.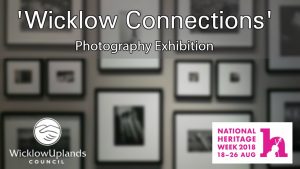 Commencing on the 22nd of August.
The 'Wicklow Connections' Photography Exhibition will feature a number of printed photographs selected from the entries to our recent photography competition.
The open competition, which saw an incredible number of entries, sought photos depicting aspects of Wicklow's diverse heritage and the exploration of the personal connection the photographer enjoys with County Wicklow.
The exhibition is curated under the categories of Activities, Rural Landscapes and Towns and Villages, and promises to take visitors on an immersive journey of personal moments captured through the lens.
The photographs on display, highlight the remarkable talent found in the competition, with all winning entries featured along with short descriptions of the inspiration and stories behind each of them.
The exhibition will be open daily at the Brockagh Centre, Laragh from August 22nd till the first week in September.
Additional Information.
Further information on each of these events can be found on our website:www.wicklowuplands.ie 
Heritage Week 2018 runs nationwide from the 18th – 26th of August. A full programme of events in your locality can be found by visiting:
www.heritageweek.ie
We very much look forward to meeting many of you at these events and would like wish each of you an enjoyable Heritage Week ahead.