Wicklow Uplands Council has recently released the full details of the SUAS Pilot Project, announced in January 2018.
Following several years of extensive study of upland vegetation management, the decline in farming activities and the impact it was having on these environmentally significant habitats, the 'Sustainable Uplands Agriculture-environment Scheme (SUAS)' pilot project announced in January 2018, aims to use innovative means to address these issues.
The project is one of 12 successful groups chosen from across Ireland under the new European Innovations Partnership (EIP) initiative. The initiative which is being operated by the Department of Agriculture, Food and the Marine sees a possible €11m in funding being made available nationwide.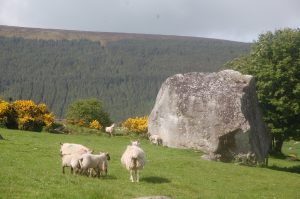 ABOUT THE SUAS PILOT PROJECT:
The development of SUAS follows from recommendations emanating from the 2013 LEADER funded 'Study to Identify the Best Management of Upland Habitats in County Wicklow' prepared in 2013 by Mary Tubridy and Associates on behalf of Wicklow Uplands Council.
The first scheme of its type in Ireland, it will assist both commonage groups and individual farmers with locally led initiatives and is purposely designed to address the complex agricultural, environmental and socio-economic challenges associated with upland farming in the Wicklow and Dublin upland region.
The projects' goals are quite extensive with the results of the scheme expected to increase the number of sheep on the hills and an extension to the grazing period over the coming years. This will be achieved through increasing the ecological and productive value of these habitats.
Improvement of the biodiversity, the protection of water quality and maintaining recreational access are also key components and will be developed by integrating environmental and farming activities into a single management plan.
The establishment of commonage groups with their own constitutions, training and support also feature in the scheme.
All interested parties, should contact Brian Dunne, Coordinator at Wicklow Uplands Council on 01-2818406 and bdunne@wicklowuplands.ie
Expression of Interest Forms can be obtained from the office or can be downloaded using the links below:
The closing date for receipt of these forms is the 30th of March 2018.
EXPRESSION OF INTEREST FORMS
Commonage Groups:
Expression of Interest Form for Commonage Farmers (pdf file)
Expression of Interest Form for Commonage Farmers (word document)
Non-Commonage Farms:
Expression of Interest Form for Non-Commonage Farms (pdf file)
Expression of Interest Form for Non-Commonage Farms (word document)
For information regarding the full time position of Project Manger of the SUAS Pilot announced in April 2018, please follow this link to the 'Current Vacancies' page where a full job description is available for viewing.