Designed to strategically manage the ever-growing deer population of Co. Wicklow, this project commenced in August 2018.
Sustainable Deer Management Project
On the 2nd of August 2018, Wicklow Uplands Council signed a three year contract for the provision of sustainable Deer Management Services in Co.Wicklow. Jointly funded by The Department of Agriculture, Food and Marine and The Department of Culture, Heritage and the Gaelteacht, the project follows several years of extensive study and will address what is widely considered to be an  'unsustainably high deer population' found in Co. Wicklow.
The contract, which will be strategically managed in conjunction with Wicklow Deer Management Partnership, will see the establishment of three Deer Management Units (DMUs) throughout the county. Each DMU will oversee the management of the deer population in their area using local knowledge on the terrain and deer habits unique to their locality.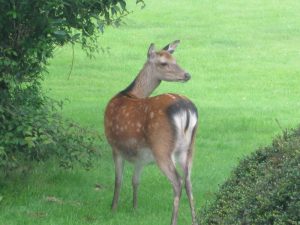 The signing of the contract follows a tender competition that took place in early 2018, and will run for a three year term. The establishment of a baseline of both the population and the challenges it presents, along with regular written reports are a feature of the project.
More details on the project will be added shortly with regular updates available on our blog page and by subscription to the Wicklow  Uplands council newsletter.