Taking place on Saturday the 24th, from 10am – 2pm at the Brockagh Resource Centre in Laragh, this free seminar is open to anyone interested in understanding and promoting the natural, built and cultural heritage of your local area.
If you are involved with a tourism operation or perhaps an historical society, a tidy towns, PURE Mile or another community group, this FREE seminar may very well be for you!
Centered around heritage interpretation, this half day event which runs from 10am -2pm, follows on from the previous Our Wicklow Heritage seminars on the themes of "Community Archaeology" and "Making Local History".
This year's theme explores creative ways of communicating heritage information, with a focus on community based actions for interpreting and promoting our towns, villages and places of interest.
Session One will share the latest Our Wicklow Heritage initiatives. Featuring a selection of recent projects from Wicklow, including exhibition, animation, film, digitisation and music, with an aim of showcasing examples of creative ways of gathering and sharing information about Wicklow's rich heritage.
Session Two will be hosted by Abarta Heritage, a company specialising in providing interpretation and visitor service solutions to communities, cultural sites and institutions. Abarta Heritage were engaged in 2018 by Wicklow County Council and the Wicklow Uplands Council to co-ordinate the Wicklow Trails heritage recording project.
The team will talk about their experience of gathering digital content for this project and will offer advice and training on the various options for interpreting local areas and how we can all discover and Share Our Stories.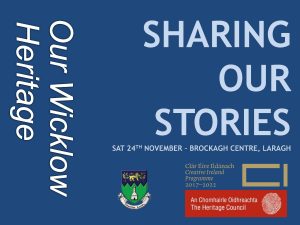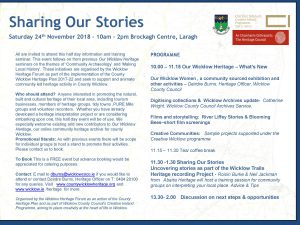 Whether you have already developed a heritage interpretation project in your town/village or are considering embarking upon one, this half day event will be of use. The organisers especially welcome existing and new contributors to Our Wicklow Heritage, the online community heritage archive for County Wicklow.
Although this is a Free event, and open for everyone, advance booking is needed for catering purposes.
Please contact Deirdre Burns, Heritage Officer on T: 0404 20100, email dburns@wicklowcoco.ie or Catherine Wright, Archives, cwright@wicklowcoco.ie for bookings and queries.
For more details visit 
 www.countywicklowheritage.org or 
 www.wicklow.ie/heritage
As with previous events there will be scope for individual groups to host a stand to promote their activities. Please contact organisers to book.
This event is organised by the Wicklow Heritage Forum, part of the implementation of the County Wicklow Heritage Plan 2017-22, which seeks to support and animate community led heritage activity in County Wicklow and promoting Wicklow's Creative Ireland programme.
The Wicklow Trails Heritage Recording Project is a joint initiative between Wicklow Uplands Council and Wicklow County Council.
Please spread the word and share online.